Linking up to Friday Furniture Feature
and Sunday Showcase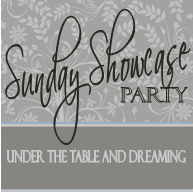 I bought this lamp over a year ago with the intention of painting it for my Traveling Door show.
I had already started painting when I remembered to take a "before" picture but you can still see where this lamp began.
When I first bought it I envisioned it as a library lamp and I figured I would paint it up  in the mixed patterns  and colors that is Pam Style.
When I finally pulled it out of the work room this week though I was overcome with the desire to go neutral.
Where did that come from?
What was happening to me?
Me, the color evangelist going beige?
I guess, like you, I am seeing beige everywhere.
It's  in the catalogs and in the stores and I swear every blog has gorgeous pictures of this decorating trend.
So I thought I would give it a whirl.
Stretch my mind a bit.
Take a chance
and go with a soft neutral.
I think its appeal is that it is calming, inoffensive, and sophisticated.
I am really learning to like it and may do a whole vignette for the sale to go with this latest project.
I painted the lamp white and then glazed it with Americana Glaze.
I added some depth the lamp by detailing it with a bronze color.
Then, because I didn't want to deviate too far from my own personal style 
I decided I would be true to myself and incorporate words into the piece.
This time, though, instead of a quote
I went with my own thoughts -
deliberately writing a bit ambiguously so that they stay private and could say whatever the new owner imagines.
I decided to also make and add a tassel to the lamp to give it that dressed up touch.
Then I painted the finial to tie in with the whole look.
I hope it sells, but if not I could probably find a place for it in our home.
I will be back tonight with Motivated Monday.
I hope you will join me here by linking up to my party.
I can't wait to see what you've been working on or what is inspiring you.
XOXO,
P 
 
  I'm linking this post here"
src="http://i936.photobucket.com/albums/ad206/kaysinerwt/th_DSCF63832.jpg" />