Funky boxes are one of my favorite things to make.
I have done numerous of these "remote boxes" for The Traveling Door market
but this is the first time I used a wood burning tool on one.
I had tried working with one before but apparently my old burner just didn't have enough oomph or it didn't have the burning tip that I needed.
I knew it shouldn't be that hard so earlier this year I bought
a new wood burning tool. This one is by Weller and I do like it better.
I'm definitely still learning the best way to use it and I even went to Youtube to see if there were some good teaching videos but I really didn't find any.
I've tried two different tips and definitely prefer one over the other.
In the end I guess it is just a slow process but if you have any helpful hints to share I would love to hear them.
My first attempt with the new burner was on this All You Need Is Love box that could be used to store remotes or whatever your little heart desires. 
When I started, it was just a plain box with a hinge closure on the front.
I had this heart shape knob in my stash and decided to switch out the brass closure and add a pull knob to the top.
The knob is what inspired the entire design.
I've always felt that a piece like this is so much more interesting if it has a fun element of surprise when you lift the lid.
So, with that in mind, I carried on with the All You Need Is Love Beatles lyric on the inside.
The heart is just painted on and the wings were decoupaged from an old book i had laying around.
I didn't burn the inside. It was just too hard of an angle.
I did burn the inside of my second remote box though.
I just wish I had taken some more pictures while this piece was still at home.
I don't have any images of the sides or back.
Too bad. So sad. It was really pretty stellar if I do say so myself.
:)
Same process. I removed the latch and added a knob and some feet.
This one would have a time theme.
The ends of the piece were black and white stripes and the back was a black and white damask design.
Here is the only image I have of the front.
This black and white image was done with a mask.
This was the only picture of the whole piece and it was taken from a distance then cropped but at least you can kind of see how the look came together.
More on some of those other pieces later. 
:)
They are all sold.
Big smiles here.
So how did I finish the inside of this box?
With a bit of burning, painting, and decoupage.
I'm on a roll now. I have all kinds of  box theme ideas racing through my head.
So now I'm on the hunt for table top boxes.
On another note, remember this table?
I am so flattered that Amanda  from  Home and Garden Craft Gossip chose a table I did last summer - a table I really struggled with - as one of her featured tables on today's post.
Her blog is delightful and she has some really great resources if you are into painted furniture. I was more than honored to be in such fine design company. Be sure and check out her blog and the other fabulous designs by clicking here.
Thanks Amanda.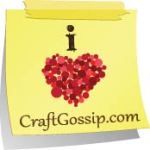 You made my day.
xoxo
P
linking up my post here: