Not long ago my mom decided it was time to update her kitchen. The countertops, sink, faucet and cooktop are now in and my mom could not be happier. She moved into her condo shortly after Dad passed away. It was a great space from the beginning but over the past few years, she has put her own mark on it. She replaced the appliances right away and painted the walls but that was where the kitchen progress stalled, until recently. She has wanted to upgrade to quartz countertops for quite some time and finally, with a little nudging, she decided this past fall that she was ready to take the plunge. She chose the Summerhill pattern from Cambria Quartz. It was a great choice. This pattern has the warm look and movement of granite but the durability of quartz. 
It looks perfect with the new G.E. Profile cooktop.
She quickly said goodbye to her old Formica countertops, the top mount sink, and our quick fix tin backsplash.
And she said hello to a new Blanco Silgranit sink and the Briarsfield model Price Pfister faucet from Ferguson Plumbing Supply.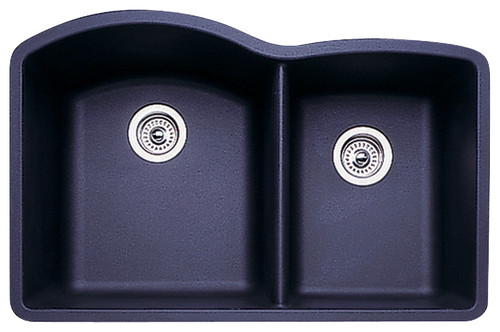 These two elements looked great with the new countertops but it wasn't until the platinum gray glass tile backsplash went up that the whole room pulled together. She loved this tile from the start and I'm so glad she pushed for this one. I liked it but I didn't have her vision. It was one of the more expensive tiles that she considered but she didn't need a lot so it was definitely well worth the splurge. 
These pics were taken with my iPhone and I needed the flash so believe me when I say it even prettier in real life. She purchased the tile from Adam's Tile and Stone. This kitchen had a lot of outlets to work around and some tight corners but their installer did a terrific job.
She is thinking of changing the wall color from green to gray and/or maybe painting the cabinets white. Thoughts? I think that would be gorgeous too but I am also embracing these darker cabinets with the tile and countertops. Either way, this is a great room to walk into. Nicely done Mom.
I'll be over to help you polish off that wine.                                                                   
xoxo,


p